Real Estate: Looking Forward In Context of The Federal Budget & Market Factors
Posted by Patrick Hulley on Wednesday, April 27, 2022 at 11:07 AM
By Patrick Hulley / April 27, 2022
Comment
The Housing Problem & Reading The Market:
The housing problem is principally one of supply and demand economics compiled with a product that has a very slow turnaround time to bring to completion. Further amplified by shortages within the supply chain and a system that is extremely bureaucratic and time-consuming to bring new housing supply to the market. Add in low-interest rates and a pandemic that has moved more people away from the office into the home and limited some from considering a move at this time, while opting to stay and renovate (Abacus Data 1 in 2 Canadians Renovating during pandemic March 11th, 2021) and welcome to a market that has been a running Sellers Market with sweeping increases in pricing over a very condensed period of time.
I would add that another factor that is problematic to the housing supply cycle is the actual municipal planning and phasing of services. While I would never advocate not having planning, the municipal plans and official plans have not kept pace with the changes within to meet the demands of density and mix of housing that is needed. Examples would be the ability to drop in a free-standing granny suite or freestanding home office in your yard, the reality of Air BNB markets and impacts on communities, two-family dwellings within one home, mix use of commercial/residential lands to meet the growing demand for rental and condo apartments, tiny homes and more. Further Official Plans have created high-demand locations for real estate acquisitions as developers follow the projected plan in acquiring future real estate holdings. The end result is that the land for future development is in a very small ownership group and, in turn, controlled by large-scale developers who can leverage the growth position of lands for servicing to better control the market. New home developments used to offer a wide range of builder products from a varying degree of builders - now it is singular or there are one or two partnership developers who control the lands and, consequently, the release of supply.

The above reflects my opinion about planning and I believe that this factor, in combination with a long period of historically low-interest rates, has created a real estate market problem that has led to up to 50% increases in real estate values over the past two years. This type of market that calls to question the sustainability of this level of price growth and demand going forward. See the graph below; scaling this graph for rough values shows the average price Q1 2020 of $370,000 now as of Q1 2022 of roughly $680,000 (almost doubling in price). If this level of price growth were to continue, the median sale price of single-detached homes in Kingston - by the end of 2024 - would be projected to be roughly $1,250,000.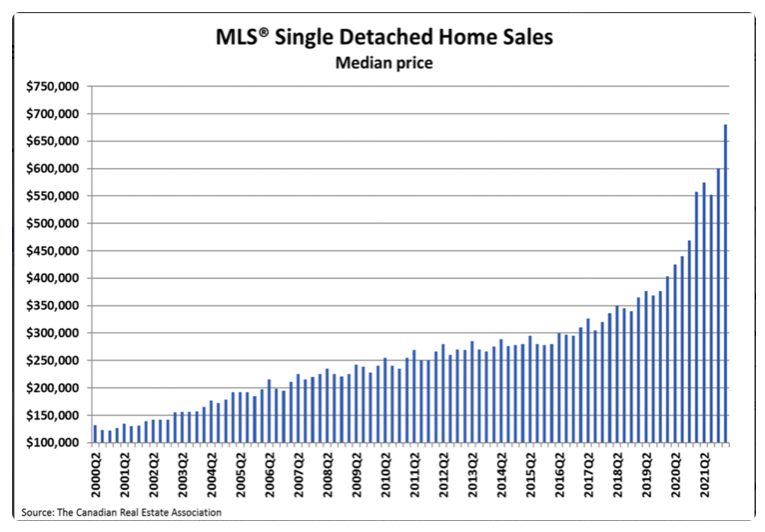 Above Tabled Data from CREA (Kingston & Area Real Estate Association): Median Price Single Detached Home Price
As real estate professionals, we look at this market and advise our Buyers and Sellers on both the impacts of the Federal Budget and our thoughts on the real estate market going forward and we need to be realistic about what the next few years will look like. If your Buyers are purchasing a home today, what can they expect to see in value over the next two years for that investment? The honest answer is: none of us really know, but we can read more than tea leaves. Further, we can look at the Federal Budget, Demographics, and Interest Rate Trends in order to make some projections of what the next few years hold for real estate. The reality of the accuracy of any projections will, of course, be driven by a wide range of market factors and, as such, these assumptions are simply just opinions on the direction of our market for discussion purposes only and cannot be relied upon (legal disclaimer that basically says only the market really knows what the future holds so don't rely on this report, its an opinion piece :-) ).
Federal Budget
Here are some key items within the Federal Budget and my opinions with respect to the impact of each on real estate:
A ban on foreign real estate Buyers purchasing Canadian Real Estate:
In my opinion, this is largely for the show component of the Budget. A recent study of Condo Buyers in the GTA and Vancouver showed that less than 2.5% of Buyers of New Condo Releases were foreign investors. Foreign Buyers in the market are clearly not a major leading factor to the inflation rates we are seeing in housing, as they simply do not represent enough of a major force within the market - a factor but not a driving one by any stretch.
A Housing Accelerator Fund:
There has been an increased demand in housing. The Seasonally adjusted average home sales were relatively stable until a slight decline in Q1/Q2 of 2020 and then there was a dramatic increase in sales volume. CREA Sales volumes in 2021 peaked at 667,000 units a 30% increase over the 10-year average. Considering 1/3 of those sales on average were new homes and the new housing markets lag to meet demand, the sales volume has created increased pressures on supply and supply and demand levels have a serious impact on price. The Federal Budget has called for a Housing Accelerator Fund: a 4 billion fund over five years that is designed to incentivize and accelerate housing stock by adding 100,000 additional housing units.
The fund's intent is to reward municipalities that increase supply over historical averages by cutting red tape and technology efficiencies, increasing densification, tackling NIMBYsim, and encouraging the use of underutilized lands within. This is an ambitious task as anyone that has dealt with the red tape of bringing housing on stream from the land development approval process through to the permit approval process for each new build, dealing with outdated zoning, and the levels of input to getting a development approved just add to the process in time, money and delays. Clearly, the demand has outstripped supply and while this will take some time to be implemented the Federal Budget incorporating incentives for cities and municipalities to increase housing supply over historical levels can only be good thing to assist in meeting the growing demand for housing that is adding to price pressures.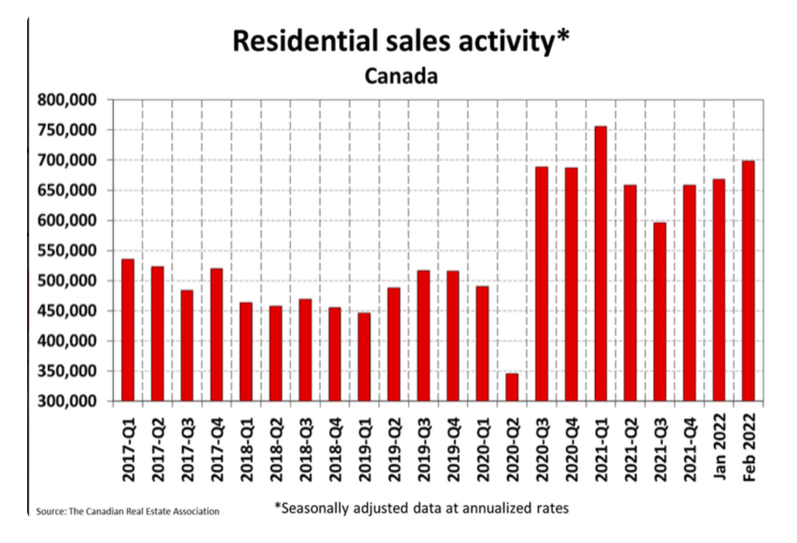 The real underlying question here is: Will the demand continue? This is a crucial question, as understanding the demand pressures will further clarify the impact of increasing housing supply on price over the next five years that this plan is in force. Consider the following:
i) A study by Money.co.uk. published in 2020 looking at average age of home buyer found the average for Canada to be 36 years old, the United States was 33 years of age.
ii) The following graph is from the July 1st, 2021 Census for Canada, showing a wide band of the population in the 20 to 44 age group.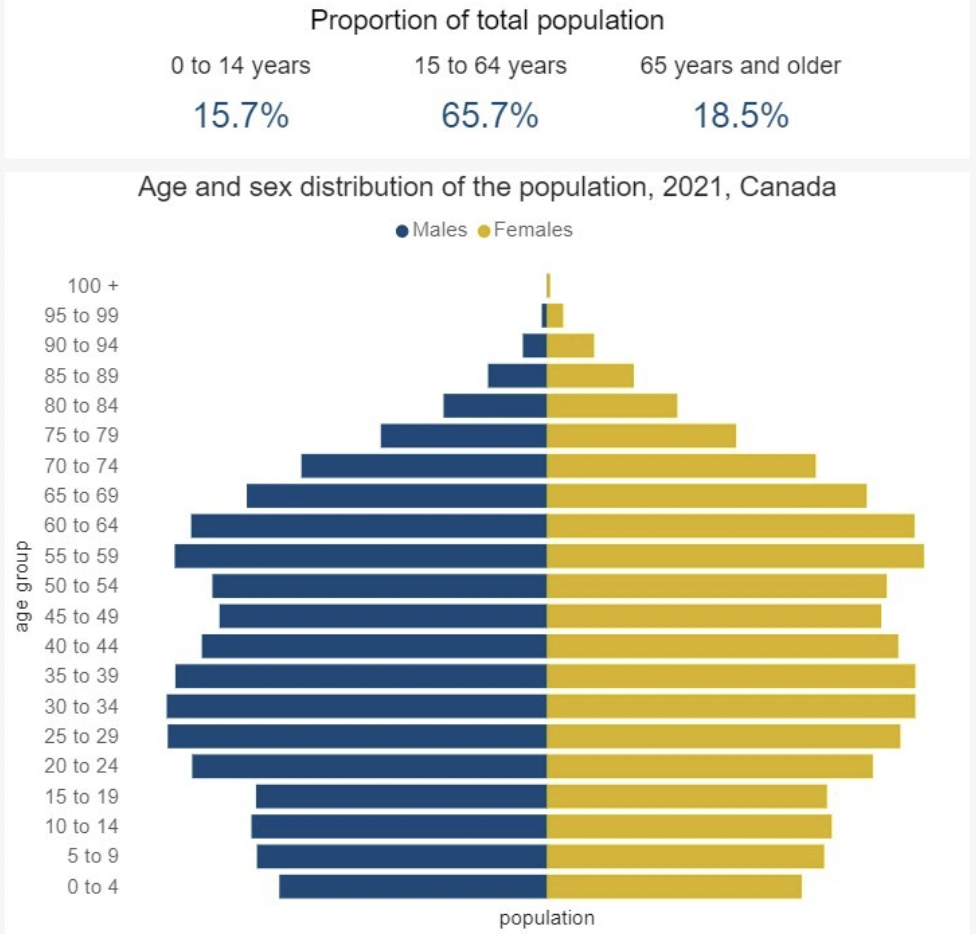 Graph Source Statistics Canada WebSite
If the average age of purchasers holds true, it is clear from the above that there are another 10 years of supply pressures on housing. Further, as a country, we have set even higher immigration targets, which will increase pressure on the supply/demand cycles. The Federal Governments Forecasts were as follows:
Over the coming three years, Canada will aim to welcome the following level of new permanent residents:
2021: 401,000 immigrants

2022: 411,000 immigrants

2023: 421,000 immigrants
Source CIC NEWS Article October 2020
An Immigrant to Canada is until final citizenship recognized as a permanent resident and as such is exempt from the foreign buyer's ban.
It would appear from the above that there will remain an increased demand for housing based on demographics. Moreover, while there will be measures to accelerate new housing and support greater intensification and efficiency of land use underway as a result of the Federal Budget, the time periods required for implementation and construction to work its way through the system will not be, in any way, a short term fix that will have an impact over the next 12 months, if not longer.
3) Tax-Free First Home Savings Account (TFFHSA):
An allowable contribution of $8,000/year per person up to a maximum of $40,000 within the TFFHSA: a way to save income tax while saving for a home, notwithstanding the average home sale price in Canada as of March 15th, 2022 was $816,720 and the downpayment required would be as follows:
$500,000 for the first 5% being $25,000
And 10% for the remaining $316,720 being $31,672
In this scenario, the total downpayment required would be $56,672 to meet lending requirements before qualifying requirements which are stress tested. A stress test sets the mortgage qualifying rate to the higher of 2% above the best mortgage rate or The Bank of Canada Qualifying Rate of 5.25%.
I ran an income qualifier on CIBC's How Much Can You Afford based on a downpayment of $56,672, personal debts of $10,000, and months loans of $300 (this is a very favorable circumstance), and the income qualifiers to purchase price looked like this:
- Income Per Year $ 75,000 - Qualifies you for a home price of about $305,000 O.A.C.
- Income Per Year $100,000 - Qualifies you for a home price of about $425,000 O.A.C.
- Income Per Year $125,000 - Qualifies you for a home price of about $546,080 O.A.C.
- Income Per Year $150,000 - Qualifies you for a home price of about $665,000 O.A.C.
- Income Per Year $200,000 - Qualifies you for a home price of about $820,000 O.A.C.
The Tax-Free Saving Account will certainly assist in offsetting income to a purchase of a future home, but with rising rates and a doubling of house prices over the past two years, it is fair to ask…how sustainable can the current house prices be, relative to income qualifiers? The reality is not good for first-time home buyers unless something gives and that is not meant as a negative comment on future real estate values. Anyone owning real estate has gained and has that gain to increase downpayment - it is largely first-time buyers that are impacted by rising house prices. A Tax-Free Savings Plan will not, in any way, be a negative to first-time home buyers; however, the root issue to entry for First Time Buyers is price.
Doubling First-Time Home Buyers' Tax Credit:
The First-Time Home Buyers' Tax Credit would double to $10,000 providing up to $1,500 towards the cost of a new home. Nothing negative to this, notwithstanding the affordability of housing to First Time Home Buyers.
A New Generation of Co-Operative Housing Development:
For generations, co-ops have offered quality, affordable housing to Canadians, while empowering their members through inclusion, personal development, and security of tenure through their community-oriented model of housing.
Budget 2022 proposes to reallocate $500 million of funding on a cash basis from the National Housing Co-Investment Fund to launch a new Co-operative Housing Development Program aimed at expanding co-op housing in Canada. This new program will be co-designed with the Co-operative Housing Federation of Canada and the co-operative housing sector.
Budget 2022 also proposes an additional $1 billion in loans to be reallocated from the Rental Construction Financing Initiative to support coop housing projects.
A Housing Co-op was typically rental-based co-ops where Tenants were board members and the tenure of the provision to provide homeownership for an extended term (sometimes tied to forgivable grants). This took on various forms from for-profit to called non-profit that still had fees for construction and management as a form of profit within.
A recent excerpt from the Co-operative Housing Federation of Canada contained the following:
"In Canada, most housing co-ops are rental co-ops developed during the 1970s and '80s under government social housing programs targeted to people with low to moderate incomes. We are now moving into an era where there will be many different types of housing co-ops, including equity."
It is clear from the above sentence that "equity" will be a part of the future of housing cooperatives. That to me is one of the more interesting items out of the recent Budget. A housing co-operative under an equity structure could make the entry into ownership a more sustainable level to get into. That could be interesting.
Home Buyers Bill of Rights:
This is largely a commitment to a consultation process; over the next year, Minister of Housing and Diversity and Inclusion, Ahmed Hussen, will engage with provinces and territories "to develop and implement a Home Buyers' Bill of Rights and bring forward a national plan to end blind bidding."
In addition, as the pandemic moves through the endemic phase (truly hope this will remain true) there may be more people that have been holding, selling, and listing properties, further adding to the supply side. The other element that will be impacting real estate prices is interest rates, just look at the following chart: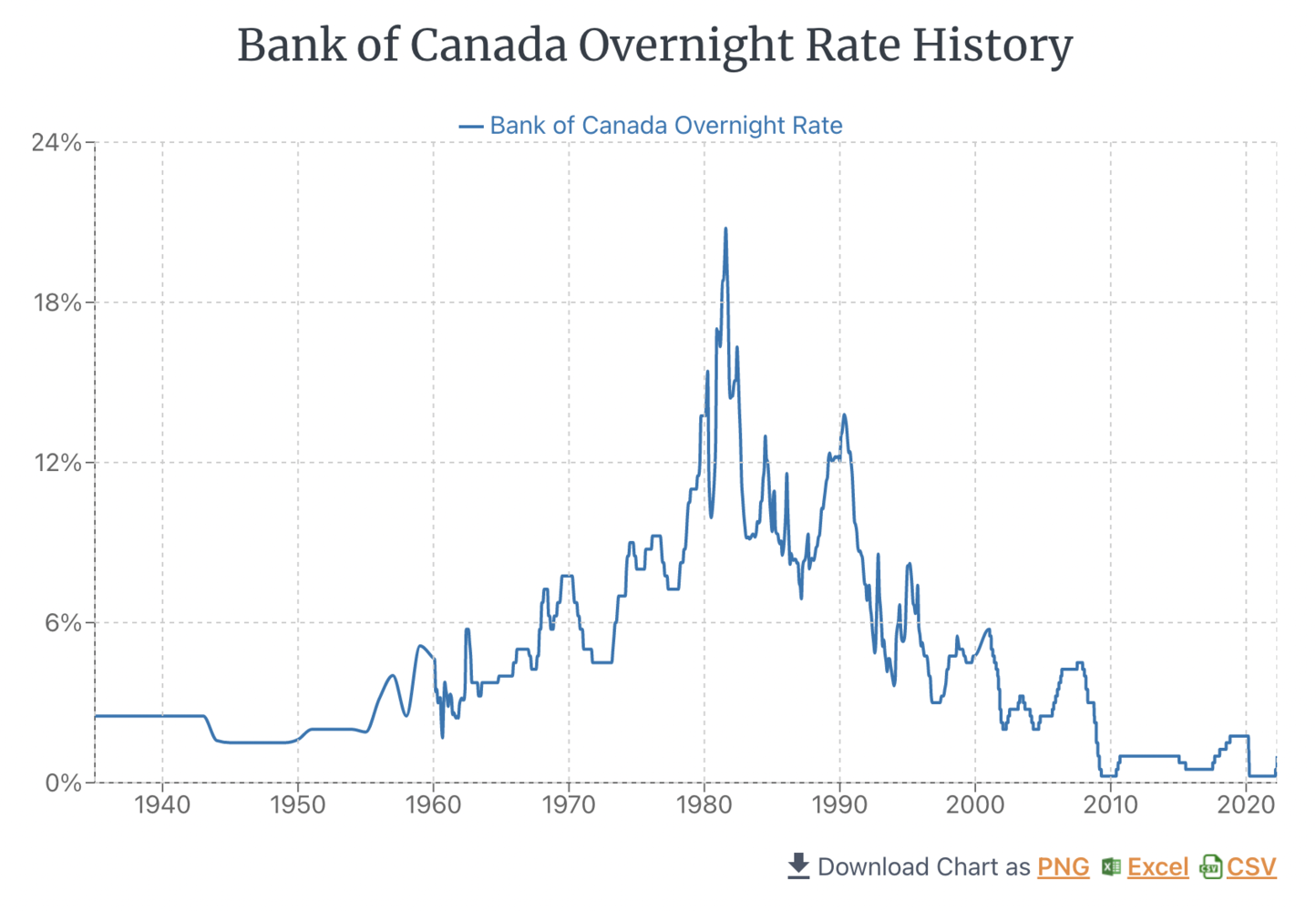 Graph Source wowa.ca article dated April 18th, 2022
Simply compare interest rate variations from the period between 2000 to 2010 to 2010 to 2022. The sharp decline at the start of 2020 was Fed-driven pressure largely because of methods to offset the impacts of the pandemic and it was clear, prior to this period, that there was already some upward pressure on interest rates. I am no economist by any stretch, but I do believe it is a fair assumption to project continued pressure on rates, perhaps to levels experienced in the 2000 to 2010 period (again, what do I know? just an opinion) and those rate increases will have a pressure on pricing growth, further working to stabilize future growth.
We are going to see some stabilization in pricing with some potential negative weight tied in, depending on a wide range of factors that are primarily for the short term - nothing at all to do with the Federal Budget, but more based on market factors, increase in supply and pressure on interest rates. In the short term, the supply pressure will remain but, because of interest rates and loosening of the supply-side, it is my opinion that short-term growth will be more leveled and, in some areas, there may be some moderate adjusting.
As we look beyond 2023 into the years ahead, I believe some of the measures implemented will take hold in the latter part of 2023 and early 24 with a running lag that new supply naturally needs to catch up and, again, a more stabilized price growth. What that means for real estate will likely lead to pricing more reflective of Sellers actual expectations versus Fifty to hundreds of thousands below desired sale pricing. If there are fewer multiple offer situations there will be less pressure on overbidding and pricing, this will, to me, begin to reflect market expectations and, to that end, create a more open market process.
What I truly believe will have a great impact on the market for First Time Buyers will largely be driven by a newer approach to the housing options available to them. This could be co-operative housing and a more "equity"-driven approach to that sector. That piece of the budget is spoken less about, but could truly have a real impact, especially for First Time Home Buyers. In addition to alternative approaches to the methodology of providing housing, from tiny homes to increased density, including secondary suites and rental income offsets to the ownership model. Perhaps zoning will change and municipalities will begin to explore the benefits of alternative self-sufficient housing models, from off-grid self-sufficient developments to other alternatives like Tiny Homes or enhanced versions of stacked housing, modular, and other such forms of housing.
Either way, real estate will remain, as it always has a dynamically changing intrinsic part of our lives, social fabric, and economy, while still being the place we call home. Opinions and proactive counterpoints are always welcomed.