Canadian Real Estate: Condo Market Share Up Again in 2022
Posted by Your Realty Group Admin on Thursday, October 13, 2022 at 10:12 AM
By Your Realty Group Admin / October 13, 2022
Comment
Condominium Market Share Continues to Climb in Major Canadian Real Estate Markets, as More Buyers Seek Affordable Housing Options
Double-Digit Increases to Rental Rates Spark New Wave of Condo Buyers in Alberta
Buyers from British Columbia and Ontario continue to be active in Alberta's condominium market.
The lion's share of condominium activity is occurring at lower price points. In Toronto, for example, the bulk of condominium apartment sales now hovers in the $500,000–$700,000 range, down from $600,000–$800,000 earlier in the year.
Condominium markets are losing inventory to an attractive rental market, as would-be sellers simply opt to lease their units long-term.
Competing offers are still occurring in areas such as Halifax-Dartmouth, although not at the same pace as earlier in the year.
Condominium market share has grown in major urban Canadian real estate markets yet again this year, a reflection of new market realities and the shifting course of entry-level buyers, according to a new report by RE/MAX Canada.
RE/MAX's 2022 Canadian Condominium Report examined more than 120 communities in six major markets, including Greater Vancouver/Fraser Valley, Calgary, Edmonton, Greater Toronto, Ottawa and Nova Scotia. The report found that condominium sales were down in the first eight months of 2022 in four markets, including Greater Vancouver/Fraser Valley, Greater Toronto, Ottawa and Nova Scotia, while Calgary and Edmonton reported double-digit sales increases over the same period in 2021. Condo values are up in almost all markets year-over-year, with many bolstered by a robust strong first quarter.
Condominium market share advanced across the board as a proportion of total Canadian real estate sales. Upswings were reported in five out of six markets analyzed, ranging from a low of 0.08 per cent in Ottawa to a high of 6.6 per cent in the Fraser Valley. Compared to year-to-date levels one year ago, condominiums now represent just over 54 per cent of total residential sales in Greater Vancouver, 36.3 per cent of residential sales in the Greater Toronto Area, almost 32 per cent of sales in the Fraser Valley, just over one in four sales in Edmonton and Ottawa, and almost one in five sales in Calgary. Nova Scotia was the only market to register a decline in condominium market share.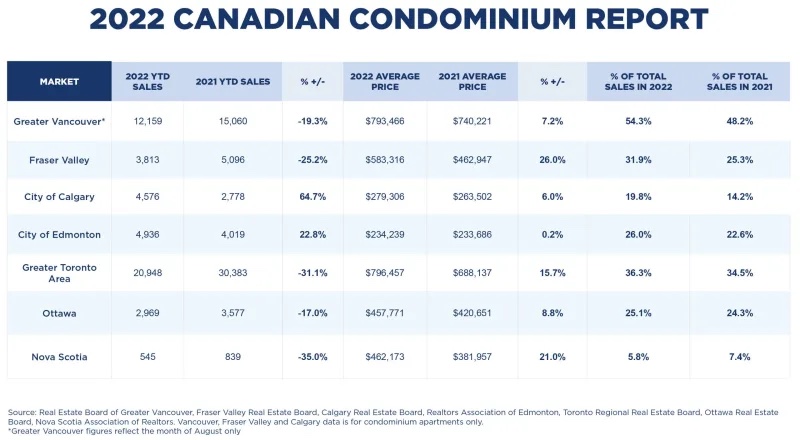 "The affordability factor is the key issue in today's housing market," says Christopher Alexander, President, RE/MAX Canada. "Rising interest rates have slowly eroded purchasing power and, despite lower housing values and cooling market conditions, buying a house is more challenging now than ever before. For those who have adjusted expectations with every rate hike, the cost of carrying a mortgage versus renting is now more comparable, given sharp double-digit increases in rental rates throughout the major markets, but especially in BC and Ontario. So, while fewer sales have occurred in 2022, condominiums represented a greater proportion of overall sales, as buyers gravitated to affordable options to achieve home ownership."
The report provides additional context to the recent decline in sales, noting that 2021 marked a year of record sales in almost all markets. Given that a significant amount of buyer demand has been satisfied, and a portion of buyers are waiting it out on the sidelines due to rapid rate increases, the decline in sales in 2022 was not only expected, but the natural course of events.
"Buyers should be cautioned that the current slowdown in sales activity is likely not indicative of a crash," says Elton Ash, Executive Vice President, RE/MAX Canada. "Prices for condominium product have remained stable or risen in most major urban centres year-to-date. Conditions are balanced overall and, as such, buyers and sellers with realistic expectations should be able to achieve reasonable objectives."
Buyers, for the most part, have finally been able to take a breath in Canada's active condominium market, since the heated momentum of recent years has cooled with inflationary pressures, shifting conditions into more balanced territory. That balance has provided a rare window of opportunity for those ready and able to make their moves – from first-time buyers gaining a foothold in the market to move-up buyers and empty-nesters. Evidence of this is occurring across the board.
Regional Canadian Real Estate Highlights
GREATER VANCOUVER & FRASER VALLEY
The condominium market in some communities has held up better than others. Sales in Coquitlam, for example, were off last year's breakneck pace by just 12.8 per cent, clocking in at just under 1,000 sales in the first eight months of the year, compared to 1,146 during the same period in 2021. Vancouver West also held up well against the changing tide, registering a 12.4-per-cent decline year-over year, with 3,211 versus 3,666 sales one year ago. Surrey North in the Fraser Valley also remained relatively strong, with sales down 11.7 per cent from last year's record pace. Just over 1,100 apartments were sold between January and August, down by 155 sales from the 1,255 sales recorded one year earlier. More Vancouver condo market insights…
CALGARY
Condominiums ownership continues to resonate with buyers in the city of Calgary. Eleven out of the 12 areas featured in the Calgary report experienced an increase in the number of condominium apartments changing hands, ranging from an upswing of 17.5 per cent in Eau Claire on the low end to an impressive 338.5 per cent rise in sales in Saddle Ridge. More Calgary condo market insights…
EDMONTON
Affordability played a substantial role in the upswing in condominium sales in Edmonton this year. Twenty-two of the 26 markets highlighted in the report experienced an increase in home-buying activity, with sales up two per cent in Queen Mary Park to 112 per cent in Lymburn. More Edmonton condo market insights…
GREATER TORONTO AREA
Double-digit declines in sales of condominium apartments and townhomes were noted in most 416/905 districts, with the exception of the 416's Bathurst Manor/Clanton Park (C06) and Yonge-Eglinton-Forest Hill South-Cedarvale-Humewood (C03) as well as the 905's Halton Hills and Whitby, where sales were off record levels by just 7.5, 8.8, 7.7 and 9.3 per cent respectively. Two areas—Caledon and Orangeville—managed to squeak out an increase, with condominiums sales up a nominal 8.3 per cent in Caledon, while rising a considerable 33.3 per cent in Orangeville. More GTA condo market insights…
OTTAWA
Condominium sales are holding their own, with many buyers returning to the downtown core. While the number of units sold overall were down in the city year-over-year, sales were on par with 2021 levels in Centretown, and two areas – Lowertown Market and Old Ottawa East – were off by just 2.8 and 4.2 per cent respectively. More Ottawa condo market insights…
HALIFAX-DARTMOUTH
While softer detached housing values have detracted some entry-level buyers from condominium ownership in Halifax-Dartmouth, condominiums remain a popular choice for those looking to gain a foothold in the residential market. Overall inventory levels have been an issue in the Halifax-Dartmouth area this year, playing a role in the downturn in condominium sales. Multiple offers are still occurring on some condominium product in key areas of the city. More Nova Scotia condo market insights…
"Despite the recent shift to a more sustainable pace of sales, Canadian real estate continues to demonstrate some resilience," notes Alexander. "The factors at play that have served to moderate demand are temporary variables. All boats rise and fall with the tide. Condominium sales activity is expected to rebound in 2023 and 2024 as interest rates begin to stabilize or decline. As demand for condos ramps up again, inventory will contract, and price growth will likely regain a stronger upward trajectory. The impact of the slowdown in new condominium construction starts combined with an inadequate supply of purpose-rentals against a backdrop of intensified population growth may exacerbate inventory levels of existing product."

Information retrieved from blog.remax.ca